Dynamics of "Differences":
Practical Challenges of Research and Methodology on Minority
YAMAMOTO Takanori & TAKAHASHI Shinichi (Eds.) November 20, 2010
Report Issued by Research Center for Ars Vivendi of Ritsumeikan University, Vol.14, 408p. ISSN 1882-6539
[Japanese]
---
■
YAMAMOTO Takanori
& TAKAHASHI Shinichi (Eds.) November 20, 2010
Dynamics of "Differences":
Practical Challenges of Research and Methodology on Minority
, Report Issued by Research Center for Ars Vivendi of Ritsumeikan University, Vol.14, 408p. ISSN 1882-6539 ※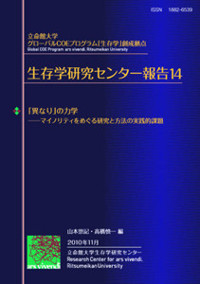 *
Please note that most parts of our reports are written in Japanese.
  Those who like to have our reports are asked to pay the shipping charge (The reports themselves are
  free of charge).
  Please contact the following.
  Administrative Office, Research Center Ars Vivendi at Ritsumeikan University
  56-1 Kitamachi, Tojiin, Kita-ku, Kyoto, Japan 603-8577
  E-mail:
ars-vive@st.ritsumei.ac.jp
  TEL:+81-75-465-8475 Extention:2393(9:00〜17:30 Japan Time) FAX:+81-75-465-8342
■Table of Contents
Preface Dynamics of Differences and Minority Studies  
YANG Yangil
& TAKAHASHI Shinichi 5-9
 Introductory Chapter On Thoughts and Political System: Memorandums on Psychiatric Medicine and Relocation Centers in the Union of Soviet Socialist Republics  
AMADA Josuke
 13-65
Part I Criticality of Branching and Inclusion of "Differences"
 Chapter 1 Possibilities and Limitations of Empowerment in School Education: From Practice through Clinical Education for Students with Social Difficulties  
YANG Yangil
 68-87
 Chapter 2 Segregation Marked in the Diseases and Endless Discriminations: In Case of the Relationship between the Case of Stay Rejection at Kurokawa Hot Spring Hotel and Surveyors  
YOSHIDA Sachie
 88-113
 Chapter 3 From a Pamphlet to Young Hemophiliac Club: Movements toward Activities Conducted by Individuals with Hemophilia Themselves  
KITAMURA Kentaro
 114-140
 Chapter 4 Exclusion and Alignment among Different Discriminated Categories: In Case of "Discrimination against Lesbian" in a Community of Korean Residents in Japan  HORIE Yuri 141-165
 Chapter 5 Turning Point of "Alternative Labor Practice by Housewives": How will the Workers Collective Change?  
MURAKAMI Kiyoshi
 166-190
 Chapter 6 Necessity of Having Gender for Labor: Survival Strategies for Individuals with Gender Dysphoria in Working Places  TAKAHASHI Shinichi 191-219
Part II  Practical Issues of Social Research
 【Round-table Talk】Ethics Imposed on Research and Questions in Practice: What Are "Researchers" who are Wandering among Participants / Involved Persons / People / Activists?
 Reporters /
NAGATA Atsumasa
& ARIZONO Masayo Specific Responders / HORIE Yuri &
KITAMURA Kentaro
 MC /
YAMAMOTO Takanori
 Participants /
YANG Yangil
, TAKAHASHI Shinichi,
YOSHIDA Sachie
,
MORISHITA Naoki
and
MURAKAMI Kiyoshi
 222-293
 Chapter 1 Methods and Practices of Social Research: On Spectrum of Being a "Researcher"  
YAMAMOTO Takanori
 294-318
 Chapter 2 Position of "General Academic Research Group on
Shiranuikai
" in the History of
Minamata Disease
: On "Concerted Actions" in Cultural and Social Science Research  
MORISHITA Naoki
 319-348
 Chapter 3 Returning Questions: What should Need to Be Considered before Questioning "Research", "Researcher" and "University"  
KITAMURA Kentaro
 349-374
Part III Lecture Record
 【Lecture】Framework of Multiracial Nations and Minority: Is the "Convivial Society" Consisting of Multiethnic Population and Multicultural one Possible? SATO Nobuyuki (RAIK) 377-402
Postface  
YAMAMOTO Takanori
 403-408