---
'
Foreword
@This September
Colin Barnes
and
Alison Sheldon
will come to Japan and a
short-term intensive course
(
Englishe
/
Korean
) will be held at Ritsumeikan University. They will also speak at the General Meeting of the Japan Disability Studies Association to be held at the Komaba Campus of Tokyo University. The textbook that will be used is
Exploring Disability (2nd Edition)
(Barnes and Mercer 2010, first edition Barnes, Shakespeare and Mercer 1999, Japanese translation 2004), and in this book there is no mention of activism on the part of people with disabilities or "disability studies" in Japan. This is not at all surprising, and is the result of our failure to publish articles in [foreign] journals and communicate by other means what is occurring in Japan [to the rest of the world].
@We have thus decided to write a few papers on the disabled movement and statements/writings/research related to disability in Japan. We have already written a book entitled
Ars Vivendi: Sociology of Diabled People Who Left Home and Institution
(Asaka et al. eds.m1990n, revised and expanded edition 1995). This text has been
translated into Korean
so it is now possible for people who understand that language to read it in its entirety. At the time this book was written the term "shogaigaku"("disability studies") did not exist, but it has since come to be referred to as a text published during the initial period of this field of study in Japan. One of the papers I wrote for this book, "Fast/slow - the growth and development of the independent living movement" (Tateiwa 1990, 1995), focused on the history of the disabled movement and government policy. This paper was quite detailed and contained much that would be of interest only to people in Japan. In putting together this introduction to the disabled movement in Japan I have cut a great deal of this detailed content and in some cases added explanations where I thought necessary.
'
A beginning
@In contemporary Japan, particularly after the second world war, policies and practical measures directed towards people with disabilities have been promoted, beginning with employment rehabilitation. Here the word "independence" has been used in reference to economic self-sufficiency, and this kind of independence has been given an important place in the measures that have been pursued. Most of the facilities established during this period have, at least notionally, had this as their purpose. Next, policies aimed at the expansion of residential facilities were implemented. This was undertaken as a means of dealing with the fact that people with disabilities were not able to have adequate lives while living at home. In most cases facilities set up as "rehabilitation centers" were also intended as residential facilities for people who had difficulty becoming economically self-sufficient. Medical/educational interventions were also made to recover/develop physical/mental functions even in cases where this would not lead to economic independence. For those who did not qualify to enter these facilities, people designated as having severe disabilities under the law were given only an annual pension to cover basic costs of living and from the late 1960s some additional support through aid initiatives. As a result, most people with disabilities were not able to escape being dependent on their families.
@Under these circumstances, activism on the part of people with disabilities focused primarily on improving these policies and addressing areas in which they were inadequate. First came a movement demanding job training and guaranteed employment. Next, instigated mainly by parents, came a movement to expand residential facilities. This was also deemed desirable for people with disabilities themselves who had no choice but to live at home where almost no effective treatment/education was provided and who could not help worrying about what would happen to them after their parents died. There was also a movement demanding treatment/rehabilitation/education. These were movements aimed at guaranteeing an acceptable lifestyle for people with disabilities, and were focused first on the establishment of an annual pension system and then on expanding the scope of those it covered and increasing the amount of money provided.
@These movements sought a guaranteed minimum standard of living for people with disabilities and their families. At first this was all that could be conceived of as possible by people with disabilities and their families given the state of affairs at the time, and they could not help adopting a stance of pointing out deficiencies in the framework that had been established. Other factors aside, the fact that activism on the part of parents became the main force in the movement alone meant that the volition of people with disabilities themselves was being suppressed.
@In the midst of these trends (which have in no way disappeared), around 1970 a movement of a different kind began to emerge. The activism and assertions of "
Aoi Shiba no Kai
", an organization of people with cerebral palsy, are now seen as having been symbolic of this change.
@This association, an organization that had more of the character of a mutual friendship society than an activist group, was formed in 1957. The majority of its members, however, focused on expressing themselves in writing, and the activities of their group did not stop at fostering friendship. At this time the tendency to question the position within society in which they had been placed was still at a relatively early stage, and in 1962 they became the first organization to negotiate with the Ministry of Health and Welfare (now the Ministry of Health, Labour and Welfare) as a group of people with disabilities. Initial issues were an increase in the annual pension and the guarantee of a place to live, and these became the main focus of the negotiations. Looking at later statements made by this association a focus can also been seen on adding the promotion of early diagnosis/treatment and the establishment of vocational residential facilities and permanent residential facilities to this list of demands.
@@Among the members of this organization, between 1964 and 1969 there were up to twenty individuals at a time living in "Maharaba Mura" ("maharaba" comes from a sanskrit word meaning "great scream" and "mura" is a Japanese word meaning "village"). This was a commune that was formed in Akira Osaragi's house which he made available for use by people with cerebral palsy. Its members were able to leave their parents and maintain at least a modest lifestyle by relying at first on the earnings of Osaragi and later on social assistance payments and voluntary contributions. The most severely disabled individuals were cared for by Osaragi and his wife. Osaragi often held lectures at his house. These talks promoted awareness of oneself as a person with a disability and of the fact that since society was organized around productivity any attempt at assimilation would amount to a rejection of oneself. It was not a particularly religious commune, but ideas drawn from "Jyoudoshinshu", a school of Japanese Buddhism, can perhaps be seen in what was said and done there. The founder of this school of Buddhism, Shinran, used the term "Akuninshouki" ["akunin" means "bad person" and "shouki" is a Buddhist term meaning something like "having a nature receptive to the teachings/salvation of the Buddha"]. This term can be interpreted in various ways, but it is normally seen as encouraging skepticism regarding the goodness of what is seen as good and an overturning of conventional ideas of value. The influence of this concept can perhaps be seen in the "platform" of the Aoi Shiba no Kai, but it is a bit crude to view the root of this new way of thinking within the disabled movement in Japan as coming from religion; in this society the feeling that we should not trust the foundation of what society deems good is not so out of the ordinary. This can also been seen as a common theme in the thought of later proponents of the disabled movement. ("Maharaba Densetsu", a play about this commune, was staged by a theater group called "Gekidan Hentai" in 2009. A poster for that production is shown in the image at right)
š01
.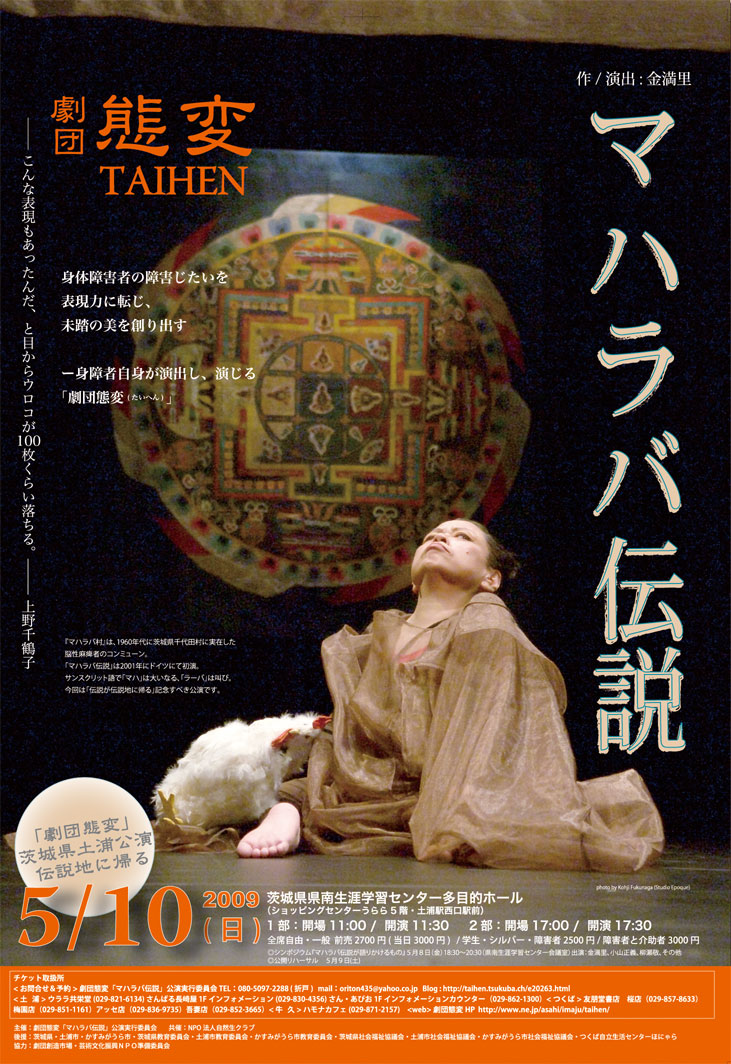 @@After this commune broke up, members that ended up living in Kanagawa Prefecture (located not far from Tokyo) participated in the activities of Kanagawa Prefecture Aoi Shiba no Kai. This was a very small organization, but in 1970 it engaged in criticism of efforts being made by local organizations and the association for parents of children with disabilities to secure a full pardon for a mother who had killed her two year old child who had suffered from cerebral palsy. The organization's activities were reported in newspapers at the time, and it was introduced in a March 1971 broadcast of "Gendai no Eizou" ("Hitotsu no CP sha shudan (An organization of people with CP)" ) on NHK television.
@@After this incident there were calls for greater support and assistance for parents, criticism of the inadequateness of facilities, and growing sympathy for people with disabled children. This was similar to the public sentiment that had led to the expansion of facilities for people with disabilities in the 1960s. Members of the Aoi Shiba no Kai, however, drew attention to the problematic nature of a state of affairs in which the existence of people with disabilities itself was not affirmed and of statements such as "they would be better off dead" which could not be reconciled with the perspective of someone living with a disability. They also pointed out that their existence itself was not truly accepted by these parents.
'
Another beginning
@@The 1970s also saw the start of a movement criticizing the management of the facility for people with disabilities in Tokyo. Residents lived in just two large rooms, one for men and one for women, with only folding partitions to separate their personal areas, and were subject to a fixed wake up time of six in the morning (lights came on at five fifteen) and a mandatory "lights out" at nine in the evening. There was also a fixed time for going to the toilet, and, in order to avoid having to assist residents go to the toilet at other times, in the morning each individual was given a bedpan. Visits were allowed once per month. Excursions/staying overnight outside of the facility required permission, and the number of times permission would be granted was limited. Possessions, including food and drink, were regulated, and at the end of the day residents were made to change into pajamas. They were not allowed to grow their hair long because it made washing difficult. Female residents were bathed by male staff. When the facility was opened, one of the conditions of entrance was the granting of permission for the resident's body to be dissected if they died while living there. In the facility there were painting, origami, and exercise programs, and residents were taken on walks three times a week. Activism in opposition to this kind of lifestyle was carried out by some of the residents and their supporters. The development of this movement was complicated, but it focused on specific improvements to the standard of living inside the facility and was also connected to the movement pushing for residents to leave the facility and live on their own
š02
.
@@This led to the start of a movement that rejected the image of people with disabilities as being in the custody of their families, presented them as individuals with their own interests/assertions distinct from those of their families, and sought to have them live independent of the protection/care of their families. In the latter half of the 1970s this came to be referred to as the "independent living" movement. At that time the American independent living movement was not well known in Japan. Information about this movement in the U.S. was first introduced around 1980 by professionals in the field of rehabilitation. Since that time it has rarely been noted, even within the fields of social welfare studies and rehabilitation studies, that this movement developed independently in Japan at the same as it was emerging in America. Even within the [Japanese] disabled movement the independent living movement is sometimes thought of as having originated in America, but this is not in fact the case. (One of our aims in writing books and papers on this topic has been to correct this misunderstanding. How the history of this movement came to be understood in this way is something I will discuss later).
'
Expansion
@@In 1972 Kazuo Hara, who would later become well known as a documentary filmmaker for such works as The Emperor's Naked Army Marches On (winner of the Caligari Film Award at the 1987 Berlin International Film Festival), made his first film, Sayonara CP, in collaboration with Aoi Shiba no Kai. Hiroshi Yokota (see Yokota [2004] for a collection of his dialogues), flopping through crowded streets on his folded legs, and Kouichi Yokozuka (see Yokozuka [1975], expanded edition [1981], and new edition [2007]), two people who were often stared at, carried cameras themselves and shot footage of the world around them; this was in turn shot by the filmmaker and shown in the documentary. Hara said the following in an interview about the film:
@@"Around that time the idea that "black is beautiful", a radical way of thinking in which the physical characteristics of black people, which had been discriminated against, were themselves seen as being very beautiful, had begun to emerge in America. I thought that in the same way it should be possible to say that "physical disability itself is beautiful". I therefore decided to pursue the question of what physical disability actually is"
š03
.
@@Yokozuka commented as follows:
"People without any disability often "show their understanding" by saying things like "people with disabilities are human beings just like us". ...we are completely different. For each of us the most important part of the environment in which we live is our own body. No matter where we go we cannot get away from it"
š04
.
@@Special screenings of this film were held all over Japan, and the issues it raised were sometimes discussed as part of the screening event
š05
. This was one of the factors that made the activities of this group more widely known, and in 1973 it became a national organization and held its first general meeting with representatives from all over the country.
@@I have said quite a lot about Aoi Shiba no Kai, but I should point out that [within the disabled movement] most people were not directly connected with this organization. I should also note that this movement was influenced by the antiestablishment movements that sprang up in various places around the world from the late 1960s to the early 1970s. In Japan this activism was mainly carried out at universities, and this "university movement" and the organization of those who participated in it - distinct from various parties and sects which had existed up to that point - was referred to the as "Zenkyotoundo" ("United Protest Movement"). At that time very few people with severe disabilities received a high school education, and, unlike in America where the independent living movement had begun to emerge, students with disabilities were not active in these protest movements at universities. The supporters of these movements were mostly either people involved in social activism or who had seceded from movements they had been part of in the past. This movement itself was in part inspired by the spirit embodied in the slogan "there is no rebellion without a reason" and the idea that it was good to oppose what was seen as having authority. For example, continuing the remarks quoted above Hara adds:
@@"And the background of this film was indeed also affected by the era in which it was made. "Throw away your books, go out into the street!", a phrase used as the title of a book by Shuji Terayama, sounded very new and exciting to us. Of course the biggest influence on us was the "Zenkyotouundou". What we learned from this movement was to trust what we found ourselves in our own lives rather than pre-existing words or ways of thinking. To doubt everything that had come before and to destroy it. There was an idea that destruction was in effect creation. Spending time with disabled people fit perfectly with this way of thinking."
@@As I stated above, one idea that has existed as an undercurrent in this country is a refusal to completely believe in the world as it is (although not necessarily in contrast to a different or future world), and following the attainment of a certain level of development doubts began to emerge about modernity. From this point on, the words " nouryokushugi (ablism)" and "Yuuseishisou (eugenic thought)" - used with a wider rather than different meaning in Japanese than in English - have been used to refer to things which oppress human beings and particularly people with disabilities. I will return to this point later.
@@@In May of 1973, proposed legislation to amend the Eugenics Protection Law by adding a provision that allowed for abortion on the basis of disability was introduced in the Diet, and activism in opposition to this law was carried out by Aoi Shiba no Kai and other disabled people's groups. After this legislation to reform the Eugenics Protection Law had been shelved, these groups also protested against various other movements, such as local efforts to carry out prenatal screening (e.g. amniocentesis), that were connected to a rejection of the existence of people with disabilities.
@@In 1975 a planned national study of the state of affairs regarding people with disabilities by the Ministry of Health and Welfare was criticized and ultimately canceled on the grounds that it promoted a policy of institutionalization and was connected to the eradication of people with disabilities through eugenic thought. Making schools for children with disabilities mandatory was seen as leading to isolation from the normal education system, and beginning in 1975 activism in opposition to this approach was pursued. This mandating of special education was implemented in 1975, but local activists continued to demand that children with disabilities attend regular schools/regular classes.
@@What can be found to begin with in the assertions of these activists is an awareness of being - to employ a phrase that is often used - "people who should not exist" within this society, and an awareness of how society is organized in such a way that this is the case. What is criticized at this time is not only the actions of those with political power and capital. People who live in "general society" are not to be exempted from responsibility. Even if something is done for the sake of people with disabilities this fact alone should not dissolve all opposition to it. Norms of affection can hide this, and people with disabilities are closed off within the domain of the family. Are the systems and facilities set up for cases in which they cannot live with their families not in fact a way for society to evade its responsibilities and hide their existence? Viewed in this light the assertions of these activists who view their own role as clarifying the problems that must be addressed and feel that solutions must be reached through compromise can be better understood.
@ At the same time, we must not overlook the fact that this movement which made accusations about the outside world also sought to change the self-definition of people with disabilities. When this issue was debated, disabled people themselves made self-negating statements like "it would have been better if I had died". Along with addressing what was said by non-disabled people, this movement also worked to overturn self-negating conceptions held by people with disabilities and all across the country called for these disabled people to affirm their own existence. This call for affirmation was directed to everyone living in a society in which the tiniest differences between individuals are brought to the fore. As long as they were in positions in which they suffered extreme discrimination it was not for them to use phrases which would cover this up. While developing awareness of themselves as individuals viewed as unnecessary by society, they rejected this social attitude and affirmed their own existence. Regarding other people, they attacked those who harmed them (even unknowingly), or at least attacked their being on the "side" that caused negative effects in their lives, while at the same time continuing to seek solidarity with their fellow citizens
š06
.
'
Notes
š01
@For information about the production see
http://artnpo.exblog.jp/9565257/
(Japanese).
@@This theatre group is run by a polio sufferer named Manri Kim. His written works include Kim [1996], and Kishida and Kim eds. [1984], revised edition [1995].
š02
@A book (Mitsui [2006]) has been published by Kinuko Mitsui (b.1945), a woman who entered a facility, became active in the opposition movement while a resident, and eventually left to live on her own.
š03
@
http://www.puku-2.com/maneko/tokushu/tokushu8_1.htm
(Japanese).
š04
@in Takasugim1972n. cited in Tateiwa m1998n.
š05
@Documents are recorded in Yokozuka m1975nm1981nm2007n. cf.Sadatohm2010n.
š06
@
"Platform for Aoi Shiba Movement
(1970) is below.(translation by Osamu Nagese.)
* We identify ourselves as people with Cerebral Palsy (CP). We recognize our position as "an existence which should not exist", in the modern society. We believe that this recognition should be the starting point of our whole movement, and we act on this belief. * We assert ourselves aggressively. When we identify ourselves as people with CP, we have a will to protect ourselves. We believe that a strong self-assertion is the only way to achieve self-protection, and we act on this belief.
* We deny love and justice. We condemn egoism held by love and justice. We believe that mutual understanding, accompanying the human observation which arises from the denial of love and justice, means the true well-being, and we act on this belief.
* We do not choose the way of problem solving. We have learnt from our personal experiences that easy solutions to problems lead to dangerous compromises. We believe that an endless confrontation is the only course of action possible for us, and we act on this belief.
@@("Ayumi", no. 11. p. 1. 25 October 1970)
The following fifth point was added at a later date.
*We deny able-bodied civilization. We recognize that modern civilization has managed to sustain itself only by excluding us, people with CP. We believe that creation of our own culture through our movement and daily life leads to the condemnation of modern civilization, and we act on this belief.
'
Bibliogaphy
(Japanese)
cf.
ŸHayashi, Reiko & Okuhira, Masako@2001@"The Disability Rights Movement in Japan: past, present and future",
Disability & Society
@16-6:855-869
ŸKenjiro Sakakibara@2009@eDisability Movements and the Economy: A Comparative Sociological Study between Japan and the USfCDisability and Economy: Creating a Society for All, Todai Forum 2009 in UK
@
http://www2.e.u-tokyo.ac.jp/~read/en/act/forum2009/program.html
@
http://www2.e.u-tokyo.ac.jp/~read/en/act/forum2009/paper/sakakibara.doc
Ÿ
Nagase, Osamu
@1995@
Difference, Equality and Disabled People: Disability Rights and Disability Culture
, Politics of Alternative Development Strategies at the Institute of Social Studies, the Hague, the Netherlands, Master's Thesis (Master of Arts)